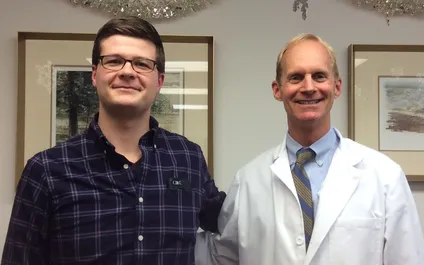 Lucas Duvall

What was your condition?
Severe lower back pain that radiated into the leg and foot. Standing was my only option because the pain was worse when sitting or lying.
What steps had you previously taken to get help?
Initially I tired OTC pain relievers, but I visited the ER because the pain worsened quickly.
How were you referred to chiropractic?
The ER physician suggested chiropractic care as an alternative to cortisone shots in the back, the use of painkillers, or back surgery.
In your words, what did the chiropractor do?
Dr. Schofield gave me encouragement that the condition would improve. He taught me exercises that help to relax and strengthen the affected area. After just a few adjustments, the pain began to decrease. Within a few months, I was able to get back to my normal routine.
What are your hobbies and interests?
Traveling, reading, and jogging.
How has chiropractic helped other aspects of your life?
I am able to do what I love: to work, to travel, and to exercise, all pain-free.
Words of encouragement to others?
It takes time, but it will absolutely get better. Follow Dr. Schofield's advice: do the exercises, keep up with regular adjustments, and stay positive.