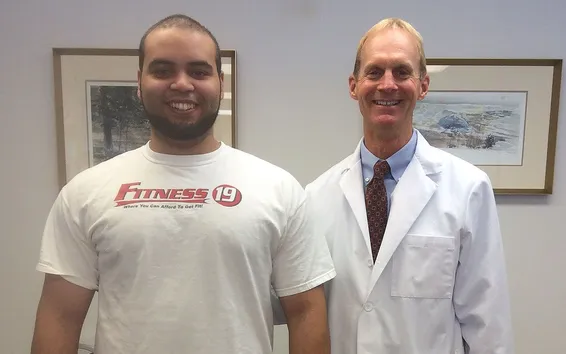 Derrick Dunn
What was your condition?
I have lower back issues that have caused strains of pain from doing exercise. My back becomes stiff and uncomfortable.
What steps had you previously taken to get help?
I had tried stretching routines to loosen the muscle group. It was somewhat successful but not the result I was looking for.
How were you referred to chiropractic?
My mother had been at Dr. Schofield's for a long time before myself.
In your words, what did the chiropractor do?
My progress has been amazing. I have been routinely able to strengthen my lower back with Dr. Schofield's guidance. My pain has been subsided from getting treatment and stiffness is becoming less of an issue. It is reflected in my day to day life.
What are your hobbies and interests?
Lifting, enjoying time with loved ones, sporting events.
How has chiropractic helped your hobbies and interests?
I have been able to achieve many personal milestones that would not have been possible without treatment and maintenance of my body. I have been able to stay in shape!
How has chiropractic helped other aspects of your life?
Aside from physical activity it helps out by preventing damage to any other body parts. A strain in the lower back will definitely cause issues elsewhere.
Words of encouragement to others?
Dr. Schofield goes above and beyond to help alleviate any issues you may have. Have a plan that you will follow to help with the healing process and you will also prevent further problems from occurring. Dr. Schofield's advice stems from firsthand experience so my recommendation is willingness to learn!